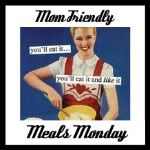 I came across this recipe in a post by one of my favorite food
bloggers
,
Stephanie Cooks
. Though I've used her original recipes many times and certainly trust her ingredients, I prefer chicken thighs in the slow cooker over breasts, wanted a thicker gravy and to get more than one meal out of this. Here is my adapted recipe for 4-5 servings. We'll get two meals out of this, feeding myself, hubs and baby G (who loved, loved, loved it!).
Slow Cooker Chicken in a Marsala Herb Sauce
Adapted from Stephanie Cooks
6-8 boneless, skinless chicken thighs
1, 14.5 oz. can reduced sodium chicken broth
1 cup
marsala
wine
1 packet
Knorr
Garlic and Herb sauce mix
1 tsp cornstarch
1) Place chicken in bottom of slow cooker (I used our 6 quart). In a bowl, mix together chicken broth, wine and sauce packet. Pour over chicken. Cook on LOW for 8 hours.
2) Remove most of sauce from slow cooker, place in saucepan over medium-high heat. Mix cornstarch with a small amount of water until just dissolved. Add to sauce pan and stir with a wire whisk. Let boil one minute. Sauce will thicken to a loose gravy. Serve over chicken while still hot.