This is my first time joining
Mama Insomnia
in this weekly posting. She's asking Mommy Bloggers to join in and post their favorite easy recipes to help each other in menu planning and to make preparing dinner a bit less stressful. Couldn't we all use some help in that department?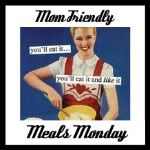 Last week I adapted this slow cooker recipe that I had seen in Prevention magazine and it turned out to be a hit with my little family, including G.
Turkey, Sweet Potato and Cranberry Stew
(Slow Cooker)
3 lb turkey breast (boneless, skinless)
1 lg onion, roughly chopped
2 tbsp honey
2 tbsp cider vinegar
1 tsp ground ginger
1 tsp salt
1/2 tsp black pepper
1 C chicken stock
2.5 lb sweet potatoes, peeled and cut in 1" chunks
1/2 C dried cranberries
2 tbsp cornstarch
2 tbsp cold water
Directions
:
1. Combine turkey, onion, honey, vinegar, ginger, salt, pepper, and stock in large slow cooker. Cover and cook on low 5 hours.
2. Add potatoes and cranberries. Cook until potatoes are tender, 90 minutes more.
3. Drain liquid into a bowl and set aside. Whisk together cornstarch and water until smooth (adding more water if needed). Pour mixture into reserved liquid and whick together to make a gravy.
4. Toss meat, potatoes, and cranberries with gravy and reheat if necessary.
This turned out delicious! I made a few adjustments from the original recipe published in the magazine and was happy that I did. 1 pound of potatoes would not have been enough and I substituted turkey breast so that I would not have to remove meat from bones. The result was very flavorful and moist. This is one I'll plan to make several times this fall and winter.