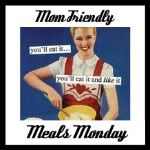 "Ghoul"-ash...perfect name for a fall dinner recipe, no?
At first glance it seemed that this recipe would be too time-consuming to make with a 9 month old crawling around my ankles. But, it turned out to be the opposite so, I needed to share for this weeks
Mom-Friendly Meal Monday
. It's cooked in stages and each only takes a moment, then sits for 10-20 minute clips. Perfect for a busy mom, actually! It's a simple twist on a classic American recipe and was delicious. Even G thought so!
Ghoulash
(adapted from a Bobby Dean recipe I recently came across
HERE
)
2 tablespoons extra virgin olive oil
1.5 pounds lean ground beef
1.5 pounds lean ground turkey
1 large onions, finely chopped (about 2 cups)
2 14.5-ounce cans diced tomatoes, fire roasted
1 29-ounce can tomato sauce
3 tablespoons soy sauce
2 teaspoons dried basil
2 teaspoons dried oregano
3 cloves garlic, minced
1 teaspoon garlic powder
3/4 teaspoon salt
3/4 teaspoon freshly ground black pepper
2 cups uncooked elbow macaroni
Instructions:
1) In a large Dutch oven, heat the oil over medium-high heat. Brown the meat in the oil about 10 minutes, breaking meat up with a fork as it cooks. Add the onion; cook and stir for 5 minutes.
2) Add the remaining ingredients except the macaroni. Reduce heat; simmer, covered, for 20 minutes. Stir in the macaroni; simmer, covered, for 20 minutes. Let the goulash stand for 20 minutes before serving.
Servings: 8 to 10