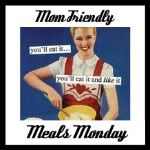 It's a three-fer today for
Mom Friendly Meals Monday
! This was last Monday's meal on our menu plan and turned out so delicious that I had to share each element. I served the pulled pork topped with broccoli slaw on small Kaiser rolls that we had in the freezer leftover from G's baptism luncheon. Since G is now eating every meal I make, I set aside some of the shredded pork for him before mixing it with the sauce. He loved it! The hash was really tasty and yielded so much that I used it again as a side dish later in the week.
BBQ Pulled Pork
(Slow Cooker)
Adapted from Southern Living, Oct. 2010
1 (3- to 4-lb.) boneless pork shoulder roast, trimmed
1 (18-oz.) bottle barbecue sauce (I used Bulls' Eye Original)
1 (12-oz.) can cola soft drink
1 packet McCormick Slow Cooker BBQ Pulled Pork seasoning
2 sweet onions, roughly chopped
1. Place roast in a lightly greased 6-qt. slow cooker with onions; Mix together barbecue sauce, cola and seasoning and pour over roast over roast. Cover and cook on HIGH 5 hours or LOW 8 to 10 hours, or until meat shreds easily with a fork.
2. Transfer pork to a cutting board; remove bones shred with two forks, removing any large pieces of fat. Skim fat from sauce, and stir in shredded pork.
Broccoli Slaw
1 bag broccoli slaw
1/2 cup Light Sweet
Vidalia
Onion salad dressing (I used Ken's)
Toss slaw mix with dressing and refrigerate several hours.
Sweet Potato & Zucchini Hash
(Adapted from Martha Stewart)
2 large sweet potatoes, peeled, quartered lengthwise, and thinly
sliced crosswise
2 Tbsp. extra-virgin olive oil
1/2 medium yellow onion, thinly sliced
Coarse salt and ground pepper
1 medium zucchini, quartered lengthwise and thinly sliced crosswise
1 medium zucchini, quartered lengthwise and thinly sliced crosswise
1. In a large nonstick skillet, heat oil over medium-high. Add onion and potatoes and season with salt and pepper. Cook, stirring frequently, until potatoes are almost cooked through and golden, about 15 minutes.
2. Add zucchini, reduce heat to medium, and cook, stirring, until zucchini is soft and potatoes are cooked through, 7 minutes.