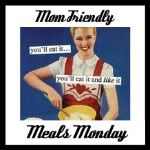 I was fortunate enough to stumble across the best, simplest recipe you could imagine on a message board I frequent. With only a few ingredients, no prep work and a rave from the friend posting it, I had to give it a try...and am SO glad I did! This will become a staple in our meal rotation. It was so good, in fact, that I was even motivated to give you a visual. I may or may not have devoured this plateful just after taking the shot...
Shredded Chicken Tacos
Package of chicken breasts (+/- 3 good size breasts)
1 can corn (14.5 oz)
1 can diced tomatoes (14.5 oz)
1 can black beans (14.5 oz)
1 packet taco seasoning (I used McCormick)
Add all ingredients, including liquids in cans, into crock pot and cook on LOW 8-9 hours.
Shred chicken with two forks and mix all ingredients when finished cooking. Serve with hard or soft taco shells with cheese and the fixings.
This is the easiest recipe I have ever made and is just delicious - and healthy!!! If you are watching sodium in your house, McCormick also makes a low-sodium taco seasoning packet. If you
aren't
a taco fan, it would also be delicious served over rice...with a dollop of sour cream, of course.